Shiroi Ashita Da! Roketto Dan
サウンドピクチャーボックス
白い明日だ!ロケット団
Play Time: 52:19
Released: 11/11/1998
CD Number: TGCS-534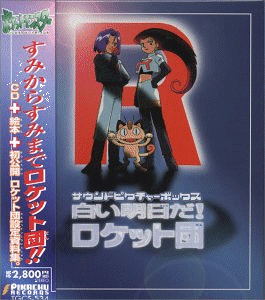 Tracks (click title to download in MP3):
Show Japanese Titles
---
I recently found a copy of this CD (high quality 320kbps MP3 baby =)) over at the Russian Pokemon site. The music on this CD is OK (some has been seen before), but what REALLY makes it shine is the drama. It covers an 'episode' featuring Musashi, Kojiro, Mondo, Team Twerp, et. al. Definatly cool. Only thing I need to do now is find where in the world a script of the drama is on the net......
"Roketto Dan Yo Eien Ni" (Team Rocket Forever) is a great song. I reviewed this song on THIS CD here. You might wanna check it out =)
"CD Drama Parts 1-3" are a radio drama containing the voice work of Musashi, Kojiro, and other's voice actors. This is like an episode, only recorded to CD complete with music and sound effects. It's supposed to be really good and funny, but I can't find the translation anywhere to know for sure. Definatly worth the download though =)
**UPDATE**:I now have a translation of the CD Drama thanks to two sites: I just found a translation for two of them (thanks to the WayBack machine and a now-dead site that was called "Pocket Monsters Translations"). As the author said, "I had paid a professional translator from Aya Honyaku $40.00 to translate "It's A White Tomorrow!," so be generous and do not claim the translation script as yours. It took me several hours to perfect the scanning of the pictures found in the "It's A White Tomorrow" CD drama book and it would be better if no one takes them at all. The scanned images are found on the three parts of the "It's A White Tomorrow" translation." The WayBack machine is missing the pictures, but it's no big deal really since the translation is what's important ;)
"Lucky Lucky" is sung by Kojiro and makes use of the puns that the Japanese love oh so much =D. I've reviewed it before on THIS CD here. Check it out =)
"Pokemon Master He No Michi" (Pokemon Masters's Path) is an interesting song. It takes some of the BGM music you've probably heard throughout the show (and definatly appeared in the movie as well) and has two people singing to it. It's rather interesting in the idea, though it's not really my thing =D.
"Umi" (Surf) is another interesting song. Like the one above, it is sung to the very famillar song that is played on the Game Boy whenever you go surfing on a pokemon. It's relaxing and has a beat that makes you think you're on a rocking ship.