Torikaekko Puriizu
とりかえっこプリーズ
Play Time: 20:20
Released: 2/10/1998
CD Number: CXDA‐101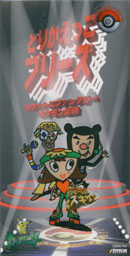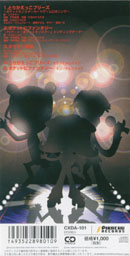 Tracks (click title to download MP3):
Show Japanese Titles
---
Torikaekko Puriizu is a neat CD IMO. The first track is very cool, with Suzukisan trading Pokemon amongst themselves. It also has Fantasy, which is an ending song, and the Ondo, which is kinda interesting.
"Torikaekko Puriizu" (Let's Trade, Please) is a song about trading Pokemon. All of Suzukisan (Imakuni, Kobayashi, and Raymond) are talking about pokemon they could trade each other, and it's very neat sounding. They lyrics are a bit strange, but that's nothing unusual for Suzukisan =D
"Pocket Ni Fantasy" (Fantasy in my Pocket) is an ending theme for the first season, and is interesting. It involves the conversation between a kid and an adult talking about friends they have/had. The topic is a little weird, but the song is pleasant to listen to.
"Pokemon Ondo" (Pokemon March) also made it's way to an ending for the show. This is a standard Ondo (march) for Japan, with the very definate and defined beat. The ending video this is used in is interesting with Satoshi and friends all in Kimono. The weirdest thing about this song is when Dogasu (Koffing) does his thing....
"Torikaekko Puriizu Karaoke" is the karaoke version of the first track. Karaoke tracks are ALWAYS nice to have =)
"Pocket Ni Fantasy Karaoke" is the karaoke version of the second track. Nothing special to note.