Niji ga Umareta Hi
虹がうまれた日
Play Time: 15:17
Released: 9/13/2000
CD Number: ZMDP-1136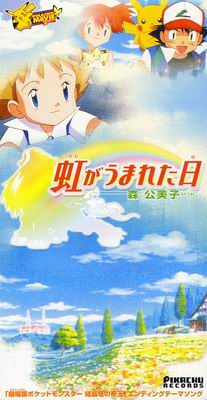 Tracks (click title to download in MP3):
Show Japanese Titles
---
Niji ga Umareta Hi is from the 3rd movie, and that's about all I know =( There are very few tracks (3, only 2 different), and since I don't usually get to see the movies, I'm not exactly sure of the context they occur in..
One thing I DO know though (I just recently found it out =D), is that this song title is NOT "Niji ga Umane Tahi". Me, believing in everything my MP3 tells me, thought for the longest time that this was the correct spelling. Very little was to be found on the net for it, though that wasn't supprising given the few results other songs turn up. However, one day while searching for lyrics to link to, I ran across a site that used an alternate spelling (the current, and correct, one). Not having seen this before, I did a bit of sleuthing, and discovered that I've had this song/album mistitled for years! Now that I finally have a nice big picture of the CD case, if you can read hiragana, you should be able to tell that it has a "re", not a "ne".
"Niji ga Umareta Hi" (A Rainbow is Born) is a fairly pretty song, very calm and relaxing. I'm not too big on the singer, but the Karaoke below would probably be pretty cool if I had it.
"Just Like A Rainbow" (Just Like A Rainbow) is basically Niji ga Umareta Hi, only done in English. Since I don't have a transation of the Japanese lyrics I don't know how different this version is. Just like the Japanese version though, it's nice and relaxing to listen to. Thanks to Adamant on #pocketmonsters!
"Niji ga Umane Tahi (Karaoke)" is obviously the karaoke version of the first track, and I must say is rather nice without the vocals :D