Pocket Monsters Eiga Anime Shudaika Song Shu Perfect Best (1998-2003)
ポケットモンスター映画アニメ主題歌ソング集 パーフェクトベスト 1998-2003
Play Time: ???
Released: 11/28/2003
CD Number: ZMCP-1657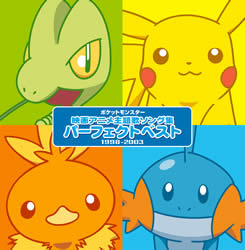 Tracks (click title to download in MP3):
Show Japanese Titles
---
Like it's brother the "TV Anime Theme Song Collection", this album steps in with music from all the various movies (up to Jirachi). As an interesing twist, several "Bonus Tracks" are included which happen to be the title themes of each movie.
Also, note that "Mezase Pokemon Master 2001" as featured on this album is the Rika Matsumoto version, not the Whiteberry version (since, of course, Whiteberry's version was a TV opening ;))