Pika Pika Massaichuu
ピカピカまっさいチュウ
Play Time: 19:13
Released: 7/18/1998
CD Number: TGDS-130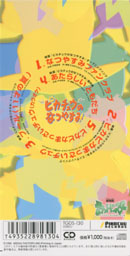 Tracks (click title to download MP3):
Show Japanese Titles
---
Pika Pika Massaichuu (also commonly known as "Pika Pika Masai Chu" or "Pika Pika Massai Chu") is a a cool little CD. The songs are all upbeat and happy and are fun to listen to every once in a while. I still rock out to Natsuyasumi every once in a while just because it's so fun =D. The songs are from the Pikachu short that appears before Birth of Mewtwo.
"Natsuyasumi Fan Club" (Summer Vaction Fan Club) is a great happy song to rock out to every once in a while. You can probably guess the tone of the song from the title, and it's definatly there. It's not an awesome song, but the uber-genki energy it exudes is definatly good to listen to every once in a while.
"Pika Pika Massaichuu" (???) The begining of the song is a little weird, but by about 30 seconds it turns awesome. I love listening to this song every time it comes on. Something about it just makes me smile =D. It probably would make it into my top 10, and definatly if you restrict that list to ubpeat songs.
"Puuru" (Pool) is good but a little weird. I think it's the kid's singing that does it. The background is interesting and would make a cool BGM, but unfortunatly they don't have a karaoke track of it =(.
"Atarashii Tomodachi" (New Friend) is a short (less than 2 minute) song that I think is really cute. It's slow and is nice relaxing music. It would be perfect if it were longer since I just don't get enough "cool down" time with it =D
"Pika Pika Massaichuu Karaoke" is the karaoke version of the second track. Thanks to Adamant on #pocketmonsters!