2002 Gekijouban Pocket Monsters
Mizu no Miyako no Mamorigami Latias to Latios
Pika Pika Hoshi Sora Camp Musical Collection
2002年劇場版ポケットモンスター
水の都の護神 ラティアスとラティオス
ピカピカ星空キャンプ ミュージックコレクション
Play Time: 45:26
Released: 8/1/2002
CD Number: ZMCP-1457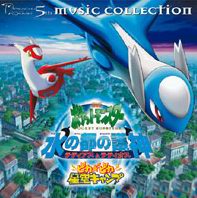 Tracks (click title to download in MP3):
Show Japanese Titles
---
"Tanpeneiga "Pika Pika Hoshi Sora Camp" Title Theme" (????). A very quick (12 second) intro. It's got that country style that pervades the next few tracks.
"Ano Oka wo Mezashite (Eiga Version)" (Aim For The Hill (Movie Version)). I'm a fan of country music. But this is a bit too much for even me. Something about Japanese singing and the steel guitar just don't go together o.O Not one of my favorites by far.
"Kisha Poppo" (Poppo's Train). Without the Japanese singing, this track isn't as bad as the last track. It's got some nice banjo picking and fiddle playing for a bluegrass feel, which I'm down with since there's no singing =D
"Saikai" (Reunion). Sounds like some traveling music if I've ever heard any. Fiddle, banjo, and steel guitar feature in this piece. Again very bluegrass.
"Usokki no Theme" (Usokki's Theme). It's hard to describe this track. The best I can do is abstract "tiptoe" almost with some percussion. Interesting, but not really music...
"Water Slide ha Tanoshii na!" (Water Slide Fun). Yet another bluegrass track. It's not too bad, but not all that great as bluegrass goes. Light on the bluegrass, but still enough to scare anybody away who dosen't like it.
"Yomawaru Toujou" (Yomawaru Appears). Similar to "Usokki", but this time making use of a piano/harpsichord. Again, a very interesting (if not exactly musical) piece =)
"Barubiito-chan Toujou" (Barubiito-chan Appears). Ahh the steel guitar. Ok, so it gets annoying when taking center stage, but they've got some good picking in this song. About halfway through it switches to a fiddle.
"Eki da!! Let's Go" (It's a Station!! Let's Go). Banjo-zilla! Weighing in at just over 3 minutes, this is the second "full length" song on the album. No singing like in "Ano Oka wo Mezashite", just some hardcore banjo, fiddle, and steel guitar. Has its moments of wierdness, but if you're into bluegrass this is probably up your alley.
"Kore de Hito Anshin da Nyaa!!" (The Coast is Clear, Nyaa!!). Back to the short tracks, this has some more interesting bluegrass, and I think is my fav of the short ones.
"Pokettaari Monsutaari" (Pocket Monsters). Pokettari Monsutaari... I like the music, but I have to suffer through the vocals when they come in about 20 seconds in. I could really go for a karaoke version of this, and probably one with the bass turned down a notch. Ignoring the vocals, a great song.
"Gekijouban Pocket Monsters 2002 Title Theme" (????). This is the opening track for the movie itself. If you've heard one "Gekijouban", you've pretty much heard them all ;)
"Densetsu (Altomare)" (Tradition (Altomare)). Some very nice harpsichord playing in the begining, joined later on by light bells. Very pretty and light music. A strong contrast to all the tracks from the begining of the album.
"Zanna & Rion no Theme" (Zana & Rion's Theme). Roketto-dan-ish in mood and style, you can totally tell that some bad guys are up to no good. Standard bad buy theme, but well executed.
"Mezase Pokemon Master 2002 (Eiga EDIT)" (Aim To Be a Pokemon Master 2002 (Movie EDIT)). This song actually took a while to grow on me, but after it did I don't know why I ever disliked it. The new background music is hip and new, with some very nice changes. It's one of my more-liked remixes of "Mezase" =)
"Roketto Dan no Theme" (Team Rocket's Theme). Probably stolen directly out of "Myuutsu no Tanjou", it's Team Rocket's sneaking music.
"Nazo no Shoujo (Meikyou)" (Mysterious Girls (Mystery)). I really wish this was a longer track. It has so much potential to go places. At 35 seconds, it's cut far too short to spread its wings and fly. This is something I'd more expect to here from the soundtrack to .hack//SIGN than Pokemon, but it's a most welcome track. Too bad it's not 8 minutes or so =(
"Kiki" (Crisis). The standard crisis music from most of the movies and the show. It is a bit remixed, but it's not a significant difference.
"Nazo no Shoujo, Futatapi (Meikyou)" (Mysterious Girls, Again (Mystery)). Remember how I was complaining about "Nazono" being so short? Well, this is the long version =) If you want to hear where the composer decided to let this song fly to, it's just a few megabytes away.
"Himitsu no Niwa (Latias & Latios no Theme)" (Secret Garden (Latias & Latios' Theme)). Some warm and soothing music with the harpsichord making an appearance again. Short and sweet.
"Secret Garden" (Secret Garden). Upbeat, and with some descent sining, this track is pretty good. It dosen't stand out particularly among tracks from other albums, but it's one of the high points of this album.
"Latios no Moto he!" (The Orgins of Latios!). More rocking than the other tracks, this is fun to listen to with the music turned up. Really reminds me of some of the music they had for Gundam Wing.
"Shutsugeki!" (Onslaught!). A little slower and more sweeping than I would think for something titled "Onslaught", but a good song nonetheless.
"Kiki ga Saru" (Danger Disappears). As is evidenced by the title, this is the slow and somewhat-sappy song that inevitably plays toward the end of each movie. While it is unique to the movie, it's theme and style is so close to the others that you can't help but recognize the exact moment it should go.
"Cannon" (Canon). Man. I seriously love "Nazono", and apparently the guys who created this album do as well. This is a slightly sped-up version of track 17. Good stuff (if short), I say.
"Hitoribochhi Ja Nai (Eiga Version)" (No Solitude (Movie Version)). The final track on the album, "Hitoribocchi Ja Nai" is pretty interesting. It's got some accordian going on like in "Nazono", and the make singer is pretty good too. This makes it onto my playlist fairly regularly (though somehow I haven't managed to memorize almost any of the song...)