Rapurasu Ni Notte
ラプラスにのって
Play Time: 10:47
Released: 8/21/1999
CD Number: ZMDP-1026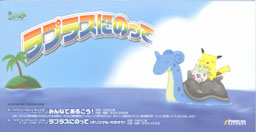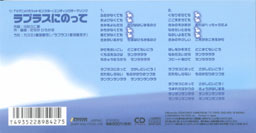 Tracks (click title to download in MP3):
Show Japanese Titles
---
Rapurasu Ni Notte (Lapras Ni Notte / Ride with Lapras) is a nice laid back CD. Neither of the two songs are particularly upbeat, but instead have a nice easy feeling.
"Rapurasu Ni Notte" (Ride With Lapras) is a very easy to listen to song. It's got a carribian thing going on, and Kasumi sings in it. I really like how it sounds, and the lyrics are pretty good too.
"Minna De Arukou" (Let's Walk Together) is a cute little song sung by the well known Team Twerp (as all us TR lovers call them =P). It begins with Satoshi/Pikachu, moving to Kasumi/Togepi, Takeshi/Vulpix, and then Kenji/Marril. They all sing about journeying with their respective pokemon, and it's awesome.
"Rapurasu Ni Notte Karaoke" Just a karaoke version of Lapras Ni Notte =)