Gekijouban Pocket Monster Kesshou Tou no Teiou
Pichu to Pikachu Music Collection
劇場版ポケットモンスター 結晶塔の帝王
ピチューとピカチュウ ミュージックコレクション
Play Time: 36:07
Released: 7/8/2000
CD Number: ZMCP-1102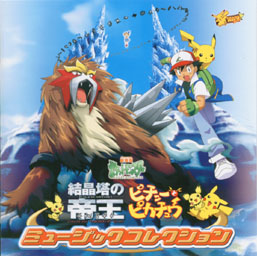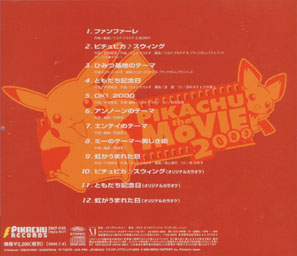 Tracks (click title to download in MP3):
Show Japanese Titles
---
Kesshou Tou no Teiou Pichu to Pikachu Music Collection is the soundtrack to "Kesshou Tou no Teiou" (Pokemon 3: The Movie). Overall it's an extrordinarily "happy" CD, to the point that I actually cant' stand many of its songs...
"Fanfare" is the first of many tracks I don't have.
"Pichu Pika Swing" I assume is from the Pikachu short that appears at the begining of the movie. I don't really enjoy it a whole lot, I think because it's just way TOO happy. Upbeat and beaming, this song definatly reaks "happy vibes", which gets annoying fairly quickly. The backgound sounds don't help much either =D
"Himitsu Kichi no Theme" (Secret Base Theme) is another song that I don't have, so can't speak to what it's like.
"Tomodachi Kinenbi" (Friend Memorial Day) I found over at NPLU. It's an interesting song, and I think it's the third song on this CD that I like. It's got a solid beat some pretty good singing, and an interesting tune. Definatly cool =)
"OK! 2000" Is one of the three tracks that I have from this album that I really like. It's a remix of the original "OK!" theme, and I think is very well done. Not much is changed, with a guitar and some echo added. Also, my copy of "OK! 2000" is higher quality than "OK!", which definatly helps me like it more =D
"Anon no Theme" (Anon's Theme) is (I presume) the theme music for Anon [Unown]. It's the second track that I like, though not nearly as much as "OK! 2000". It's a very interesting piece, with both band and orchestral elements. Unfortunatly, it sems that I'm missing some of the end (perhaps only a little bit, though I can't be sure) =(.
"Entei no Theme" (Entei's Theme) is (again, I presume) the theme for Entei. I don't have it, though I'd be interested in what it sounds like based off of "Anon no Theme".
"Mi no Theme~Utsukushiki Machi" (Mi's Theme~???) is yet another of the songs I don't have...
"Niji ga Umareta Hi" (A Rainbow is Born) is the ending theme to the movie, and is pretty good except for the singing =D This song was later released on it's own CD, complete with a karaoke version (which I wish I had). If it didn't have the singing (or a different singing style perhaps), I'd probably rank it as one of the tracks I really like from this CD.