Kakurenbo
かくれんぼ
Play Time: 17:22
Released: 7/18/2001
CD Number: SRCL-51325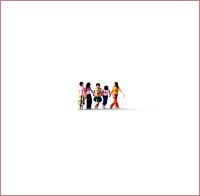 Tracks (click title to download in MP3):
Show Japanese Titles
---
Kakurenbo is a CD done by the Japanese band Whiteberry, and contains two songs. It's not too bad of a CD, but not great either (MPM 2001 really pulls it down IMHO)
"Kakurenbo" (Hide and Seek) is a neat song. I found this song at NPLU, and I agree with their description that it's not your average Pocket Monsters song. It has a feel to it that's different, but definatly not bad. The first time I heard this song, I cranked up the volume and just wanted to start singing along =D It kinda reminds me of what I'd hear from normal Japanese bands, which is probably beacuse it was put together by Whiteberry. It's the opening for the short at the beginging of the first movie. Good good stuff, even if it's not "normal" Pokemon music =D
"Mezase Pokemon Master" (Aim to Be a Pokemon Master) is yet another incarnation of the infamous Mezase Pokemon Master. This song isn't all that great in my opinion (it's probably the weird singing...). The music is almost dead straight from the original, so it's not that bad of a song. I still prefer the original and '98 over this though. It is the 4th opening song for the series. (Note: For those who can read Japanese, you'll notice that the official title of this song is NOT "Mezase Pokemon Master 2001". However, it is the name commonly given to this track, so I have opted to use it myself regardlesss. The real "Mezase Pokemon Master 2001" occurs on the Celebi album.)
"Kakurenbo Karaoke" Just a karaoke version of Kakurenbo =)
"Mezase Pokemon Master" Just a karaoke version of Mezase Pokemon Master 2001.