Pokemon Hara Hara Relay
ポケモンはらはらリレー
Play Time: 17:02
Released: 6/7/2000
CD Number: ZMDP-1092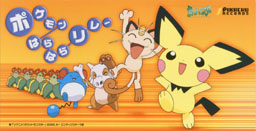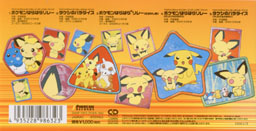 Tracks (click title to download in MP3):
Show Japanese Titles
---
Pokemon Hara Hara Relay is an average CD. It's main point are the tracks that share the CDs namesake. It's fast, and filled with OK songs. Nothing too amazing here IMO.
"Pokemon Hara Hara Relay" (Nervous Nervous Pokemon Relay) is a fast and upbeat song. Sung by the Pokemon Kids, this song is really cute, and hard to sing with to boot. It's the 8th ending for Pocket Monsters, and is an interesting song. Technically, the whole song consists of four parts -- the first two are in this track, and the last two in track 3.
"Takeshi No Paradise" (Takeshi's Paradise) is another cool song. It's the 9th ending to Pocket Monsters, and the video is cute. It starts out a lot different than it actually is, but it speeds up. Takeshi (Brock) is singing about something, though guessing PURELY by the title, it's probably some cute girls =D Definatly a neat download.
"Pokemon Hara Hara Hara Hara Relay (Muzukashii Ban)" (Nervous Nervous Nervous Nervous Pokemon Relay (Hard Part)) is similar to the first track, and is basically a continuation of it (it's parts 3 and 4). This being the "Hard Part" though, it's a LOT faster, and the singer has definatly kicked it up a few notches. I'm not sure how in the world she can sing so fast =D
"Pokemon Hara Hara Relay Karaoke" Is the karaoke track of the first track. If you think you've got the stuff, just try and sing along at its insane rates =D Credit to Adamant on #pocketmonsters for this =)
"Takeshi no Paradise Karaoke" Is the karaoke version of the second track. Again, thanks to Adamant for this!