Gekijouban Pocket Monster 4
Original Soundtrack
Celebi Toki o Koeta Deai
劇場版ポケットモンスター4
オリジナル・サウンドトラック
セレビィ時を越えた遭遇
Play Time: 40:22
Released: 8/1/2001
CD Number: ZMCP-1260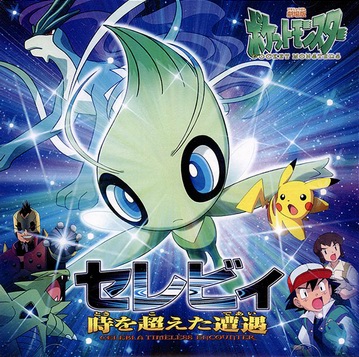 Tracks (click title to download in MP3):
Show Japanese Titles
---
Many thanks to Draelen for providing me with all the tracks to this CD! This album is the soundtrack for the movie "Celebi Toki o Koeta Deai". The album isn't your average movie album, containing several very interesting tracks. On the downside, there are a number of tracks that I'm not so big on, but I guess there's no such thing as a perfect album :D The album seems to progress from light songs to darker ones, and then back into soothing light music.
"Oyashiki" (Mansion) is a short guitar and accordian piece that is pretty good. I could go for a longer version, but apparently this is it.
"Kakurenbo (Doki-Doki Special Version)" (Hide and Seek (Fast Special Version)) is a very slight remix of the original "Kakurenbo". Given the title, you'd expect this to be kicked up a notch or something, but really it's only the original (from what I can tell) minus one of the verses (making it one minute shorter). It's Kakurenbo, so I like it, but I would have liked to hear a "real" remix of the thing =D
"Bakansu" (Vacation) isn't your average Pocket Monsters track. It's definatly background music, but it's a really light and fast flute and brass theme. Odd combination, I know, but I think it works given the title ;)
"Shibakari-kun GHekido!" (Shibakari-kun's Rage) follows up with yet more light and fast flute music. I'm not sure how it's supposed to be "rage", but whatever. Very similar to Bakansu above.
"Super Shibakari-kun 2" (Super Shibakari-kun 2) continues with the flute music. This song is more reminiscant of other Pocket Monsters songs, but I still wouldn't go so far as to call it normal for the series or a movie.
"Zenin Shuugo!" (Everyone Together!) is annother upbeat track, finally straying away from the flutes that dominate the prior tracks. I find this track to be somewhat refreshing to listen to after all of them :D
"Manatsu no Daisakusen!" (Midsummer's Big Operation) is a sugary track, which continues with the "not your usual Pocket Monsters music" thing this album seems to have going on. Personally, it's way too sugary for my tastes, but if that's your thing... This song is the ending to "Pikachu no Doki-Doki Kakurenbo", the short acompanying the movie (I assume).
"Bishasu no Theme" (Bishasu's Theme) is finally a darker track on the album. What with all the really light stuff preceeding it, one could guess that this movie has no bad guy! :D Much more heavy and dramatic than the other tracks, this is more of what I was expecting to appear in a movie soundtrack. Not too bad, but not stellar IMO either.
"Gekijouban Pocket Monster Title Theme" (Movie Version Pocket Monster Title Theme) is the Pocket Monsters Title the you regularly hear for the movies, with a slight twist. At 47 seconds, it's hard to exactly say I like or dislike it, but I can say that it's no song ;)
"Mezase Pokemon Master 2001" (Aim to be a Pokemon Master 2001) is not what you're thinking it is. No, seriously. What everybody refers to when they say "Mezase Pokemon Master 2001" is not this track, but the version done by Whiteberry on the album "Kakurenbo". Strangely enough, that version is just called "Mezase Pokemon Master", while this version (with the 2001 and everything) is barely referred to. Crazy. As far as a review of the song goes, I enjoy this version much more than the remix done by Whiteberry (again, the incorrectly known as "2001" version). While this version does NOT appear in the movie (the Whiteberry version does from what I understand), it's a much cooler piece that isn't nearly as hard on the ears. In the grand scheme of things, this song is right below the original and '98 mix, and above Whiteberry's.
"Hokou~Densetsu he" (Flight ~ Towards Tradition) is a sweeping orchestral piece that, while short, is an awesome track. It's light, but not so free-spirited as the tracks at the begining of the album that I find to be mediocre. The end changes somewhat, and it's a nice touch as well. Definatly a favorite :)
"Celebi no Fukkatsu" (Revival of Celebi) is another darker song. It's not an "evil" dark, but given the subject (revival) it's appropriatly toned down. As the song progresses, we get into the stereotypical Pocket Monsters revival music (introduction of various brass instruments, an orchestral swelling, etc). Even so, for being stereotypical, it's not that bad.
"Satoshi, Yukinari Yuujou no Theme" (Theme of Satoshi & Yukinari's Friendship) is a calm piece which is another of my favorites off this album. It's well put together, with each instrument playing it's part perfectly. For only being a hair over a minute and a half, it's amazing :)
"Golem Celebi" (Golem Celebi) is a dark theme again, and while I haven't seen the movie (bad me!!) I imagine that something not too good is hapening to/with Celebi while this plays. It's another well composed piece, my complaint again being that it's far too short (this time being just under a minute and a half :().
"Suikun no Theme" (Suikun's Theme) continues with the darker mood that's been building and is an interesting arrangement. I don't terribly enjoy it, but it's not terrible.
"Celebi Ippai" (Complete Celebi) lightens the mood somewhat, with a very relaxing and easy-going piece -- complete with "Ooohs" and "Aaahs" for a bit of vocal flavor that is absent from many of these songs. I'm not yet sure if I really like it (the "Ooohs" and "Aaahs" aren't exactly my thing), but it definatly is a very unique track for both this album and all Pocket Monsters music.
"Ashita Tenki ni Shite Okure" (Tomorrow will be a good day) was pre-released on the album of the same name, and is a very pretty piece. It's one of the very few songs with lyrics to them, and is soothing to listen to, like the track before.