Pokemon Song Best Collection 2
ポケモンソング♪ベストコレクション2
Play Time: ???
Released: 3/28/2001
CD Number: ZMCP-1211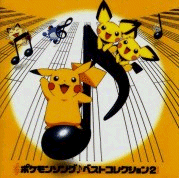 Tracks (click title to download in MP3):
Show Japanese Titles
---
Continuing in the tradition of the original Best Collection album, this one brings together some of the best tracks since #1's release in 1999. This definatly has some great songs on it, with at least 6 songs that I like. It's got some that I'm not horribly ga-ga over, but they're not bad either =) Thanks to NPLU since it had "Bokura Pichu Pichu Brothers" and "Tomodachi Kinenbi" which I had been missing!